European Order for Payment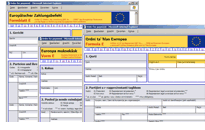 The european order for payment procedure comprises seven multi-page forms available in all languages of the EU-members (a total of 140 forms).

Internationalization:
The language-specific text, consisting of about 400 text-modules each, is strictly seperated from the form-layout. This seperation allows independend translation and text maintenance using simple text editors, without specific knowledge of xml coding
and without bothering with the complexe form-layout.


Release 2006
Form A | Form B | Form C | Form D | Form E | Form F | Form G
(Remark: use with Microsoft Internet Explorer) 


Release 2008 (German only)
Form A | Form B | Form C | Form D | Form E | Form F | Form G

PDF-Documents (commented according to change list 2008)
PDF A | PDF B | PDF C | PDF D | PDF E | PDF F | PDF G

Text Library Download (see included readme file)
Form A Text | Form B - G Text |


Open issues
Final translation text to update the forms
Detailed data-model for data-exchange (xml-schema)
Direct PDF-transformation for high-quality printout (xsl-fo stylesheet)